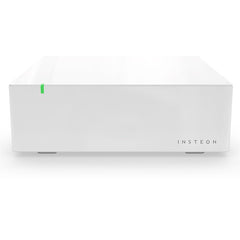 INSTEON Hub 2245-222
Remote Control and Access of Insteon devices from Your iOS, Android or Windows Device
Works with Alexa,Sonos,Echo, & Nest.
The Insteon Hub connects you to your home from any smartphone or tablet. Control INSTEON light bulbs, wall switches, outlets and thermostats. Receive instant alerts from motion and water leak sensors while you're away.
The Insteon Hub gives you control over a family of connected devices, all from your smartphone, tablet and now the Apple Watch
Create customized scenes for instant recalling of your favorite lighting settings
Create schedules for individual devices or scenes. Gradually fade lights to 50% to help you wake up or have your kids' lights automatically turn off after they've left for school.
Control temperature from an Insteon thermostat or a Nest Learning ThermostatTM (iOS and Android)
Add Insteon Wi-Fi cameras. Great for remotely checking in on your loved ones.
Get instant alerts from sensors for things like motion, water leaks and doors opening
Free iOS, Android, Windows and Windows Phone apps
Now works with Logitech Harmony Home Control remote
Please Note:
An annual Insteon subscription fee of 39.95/1yr, or $79.95/2 yrs is required for your Insteon account.
The INSTEON Hub has limited compatibility with other INSTEON devices. Please contact us to determine if the Hub will meet your needs.