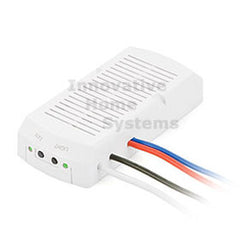 FanLinc - INSTEON Ceiling Fan and Light Controller, Fixture Module (Dual-Band) 2475F
Overview
Control a ceiling fan and light without running wires for a wall switch
Fits inside most ceiling fan cowlings
High, Medium, Low and Off fan speed control
Full dimming control for light kit
Featuring dual-band INSTEON technology for the fastest and most reliable performance
Essential Info
FanLinc is designed to easily incorporate both fan speed and light control within your INSTEON network. It is a dual-load responder simultaneously acting as a light fixture dimmer plus a 4 speed fan controller (Off, Low, Medium & High). Control the fan speed or lighting kit wirelessly from any INSTEON automation controller, be it a handheld remote or wall keypad. Tie it in with an automation controller that can trigger all the fans in the house to turn on (at a predetermined speed) to help circulate the air, reducing costs associated with running your air conditioner. FanLinc is yet another great addition to the ever expanding family of INSTEON products. 
How FanLinc Works FanLinc is compatible with most ceiling fans and installs inside the fan cowling between the fan and incoming power. You'll want to make sure you have access to both the fan and (if your fan has a lighting kit attached) the light control wires. Before finalizing your FanLinc installation you'll want to link it to your selected controllers. Because you don't want to be removing your ceiling fan every time you want to add or remove links, we recommend using software such as HouseLinc to manage all of this from your computer.
Note: FanLinc is not compatible with fans that have remote control built into the motor.
Control Ideas While there are a wide variety of INSTEON controllers to choose from, let us provide some suggestions...
For a more permanent solution, go with an in-wall 6-button KeypadLinc. KeypadLinc replaces any existing wall switch and provides wireless communications to the FanLinc. Links between KeypadLinc and FanLinc can be made manually however, software configuration is recommended. Pre-labeled FanLinc buttons or Custom-etched keys are sold separately.
Dual-Band FanLinc is dual band, so it has the ability to communicate using both the electrical wires in the home (powerline) as well as using radio frequency (RF). This increases reliability not only for FanLinc but for all devices on an INSTEON home control network (similar to the function of an Access Point).
Specifications
General
Brand:INSTEON
Manufacturer Product No.:2475F
UPC:813922011548
Patent No.:U.S. Patent No. 7,345,998, International patents pending
Warranty:2 years, limited
INSTEON
INSTEON ID:1
Scenes:2 responder groups
Maximum Scene Links:400 (combined controller + responder)
Scene Commands Supported as Responder:On, Off, Brighten, Dim, Fast On, Fast Off
Software Configurable:Yes, Always
Ramp Rates (full-ON to full-OFF):0.125 to 9 seconds if programmed locally, 0.125 seconds to 8 minutes if programmed remotely  via software
RF Range: 100' Open air
X10 Support:Yes
X10 Addresses:2 Max
Beeper:Yes
Operation
Light Dimmer
Fan Controller
INSTEON Scene/Group 1
INSTEON Scene/Group 2
Brightness Levels:32
Fan Speeds: 4 (Off, Slow, Medium & Fast)
Dimmer Control:On, Off, Fast On, Fast Off and Dim / Brights + X10 commands
Fan Control: On, Off, Fast On, Fast Off and Dim / Brights + X10 commands
Brightness:Off, 1% - 49%, 50% - 99%, 100%
Fan: Off, Slow, Medium, Fast
LED:Dual Color, Green & Red
Green=ON Red=Off Setup=Varies
Set Button: Black
X10 - On/Off only 1 Address, unassigned by default
Mechanical
Wires: 4, 16 gauge
Colors: Black - Hot / Line, Blue - Light / Load, Red - Fan / Load, White – Neutral
Case Color: White
Plastic: UV Stabilized ABS
Dimensions: 4.5" x 2.0" x .875" (114mm x 50.8mm x 22.2mm)
Weight: 112g (0.25 lb)
Operating Environment: Indoors
Electrical
Retains all settings without power: Yes, all saved in Non-volatile EEPROM
Voltage: 120VAC, Single Phase
Frequency: 60Hz
Maximum Dimmer Load: 300 Watts
Lighting Load Types: Incandescent only
Maximum Fan Load: 1 Amp
Standby Power Consumption: < 1 Watt
Safety Approved: ETL