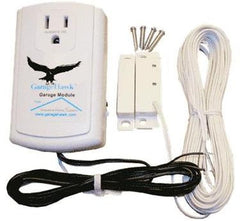 GarageHawk Garage Door Monitor System Garage Module G07
Prevent Burglaries from an Open Garage Door.  This module will add monitoring and closing for an additional garage door when added to an existing GarageHawk system.

Overview
Multiple Garage Door Control
Additional Garage Modules can be easily added for multiple garage door applications
Will not open a closed door
Notification via small Remote Module (sold separately)
Easily installed using only a screwdriver -- no rewiring required
GarageHawk employs patented INSTEON® wireless transmission standards
Essential Info
The GarageHawk G07 Garage Door Monitor System Garage Module is an add-on to the Garage Door Monitor System that allows you to wirelessly monitor and close your garage door from anywhere in your home. An additional Garage Modules allows remote monitoring and closing of an additional garage door when used with an existing GarageHawk Starter Kit. There are no batteries required and settings are stored in non-volatile memory so the settings are automatically reset after a power failure. The system requires at least one Remote Module to work properly and a Starter Kit is recommended to begin.
More Info GarageHawk units employ INSTEON (PLC) standards to communicate over your existing power lines. GarageHawk is easily integrated with other INSTEON controllers, receivers, remote controls, and security systems to add additional functionality (e.g. automatically close garage doors at sundown or use Door Open indication to trigger other events or notifications). Note: For your security, GarageHawk does not have the capability to remotely open a closed garage door. This eliminates the possibility of the device being used to gain illegal entry to your property.