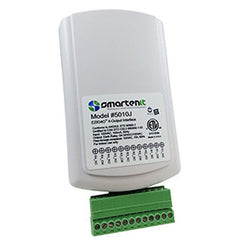 IOT4R INSTEON 4 Output Relay Load Controller IOT4R
Control 4 Relay-Based Devices from your INSTEON  or Wi-Fi Network. Replaces EZIO40

Overview
Four outputs let you control both AC and DC loads
Compatible with INSTEON and X10 products
Easy installation takes only minutes
Essential Info
The Smartenit IOT4R has four independently controlled relay outputs that operate normally opened or normally closed contacts. The four dry-contact relay outputs allow control of low voltage 120 Volt AC (up to .5 Amps) or 24 Volt DC loads. Each relay can be linked individually or with other the other relays on the device as a responder to a group command from an INSTEON controller. The device also has a built-in powerline interface and acts as a repeater of powerline INSTEON signals. Additionally, a programmable timer can be set on each relay to force an off condition providing momentary action from 1 sec to 255 minutes. The simple press of a button from your INSTEON KeypadLinc, or from your cell phone through a INSTEON Automation Controller, you can switch loads such as large relays, furnace heaters, blowers, chimes, momentary pushbuttons and more, the possibilities are endless. While basic functions can be programmed manually, advanced functionality can be programmed with the EZSrve, central automation controller. If you already have a central automation controller or a software package for your INSTEON network that doesn't have the correct parameters to program the advanced functionality of this device, you can download the free Smartenit Utility Suite which works in conjunction with an INSTEON Powerlinc Modem (2412U, 2413U or 2413S). If you need PC-free operation for simple timers, the Smartenit Utility Suite also interfaces with the INSTEON Powerlinc Controller.
INSTEON Compatible
The IOT4R Controller is fully INSTEON compatible. INSTEON is a powerful home-control networking technology. INSTEON messages are transmitted throughout your home both wirelessly and through the home's existing wiring. All INSTEON messages are confirmed and repeated by INSTEON devices in the network, contributing to the outstanding reliability and performance of INSTEON products. X-10 compatibility
The IOT4R also works with legacy X10 products. If you have an existing X10 network, the Controller works with your X10 products and provides an upgrade path to an INSTEON network.
Specifications
General
Brand:Smartenit
Manufacturer Product No.:IOT4R, #5010V, INSTEON/X10 Input/Output Module
Color:White
Warranty:One Year, limited
Operation
Status LED:White & Blue
Setup Memory:Non-volatile EEPROM - up to 30 links
INSTEON Features
INSTEON Addresses:1 hard-coded out of 16,777,216 possible
INSTEON Links:417
INSTEON Powerline Frequency:131.65 KHz
INSTEON Minimum Transmit Level:3.2 Vpp into 5 Ohms
INSTEON Minimum Receive Level:10 mVpp nominal
INSTEON Messages Repeated:Yes
X10 Features
X10 Primary Address:1 optional (requires entire House code - comes unassigned)
X10 Powerline Frequency:121 KHz
X10 Minimum transmit Level:3.2 Vpp into 5 Ohms
X10 Minimum Receive Level:20 mVpp nominal
X10 Messages Repeated:No
Mechanical
Operating Temperature Range:Indoors, 32 to 104°F
Operating Humidity Range:0% - 85% relative humidity
Dimensions:4.0" H x 2.5" W x 1.5" D (excluding external valve connector)
Weight:Approx. 5.0 ounces
Electrical
Supply Voltage:120 Volts AC +/- 10%, 60 Hertz, single phase
Surge Protection: MOV rated for 150 Volts
Power Plug:3-pin grounded
Pass Through Outlet:3-pin grounded
Certification:Safety tested for use in USA and Canada (ETL #3101636)
Related Products