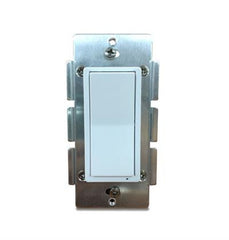 Z-Wave ON-Off Wall Switch WS100
ON/OFF status and location LED indicator
Fits into standard single or multiple gang junction box
Over-The-Air firmware upgrade available with compatible gateway, Z-Wave static controller, or PC and software.
Internal resettable fuse to protect from surge current
Manual reset capability
Supports incandescent, fluorescent (CFL) and LED lightin
- See more at: http://www.zwaveproducts.com/shop/z-wave-lighting/z-wave-wall-switches/z-wave-plus-wall-mount-on-off-switch#sthash.w8JPwu7v.dpuf

ON/OFF status and location LED indicator
Fits into standard single or multiple gang junction box
Over-The-Air firmware upgrade available with compatible gateway, Z-Wave static controller, or PC and software.
Internal resettable fuse to protect from surge current
Manual reset capability
Supports incandescent, fluorescent (CFL) and LED lighting
- See more at: http://www.zwaveproducts.com/shop/z-wave-lighting/z-wave-wall-switches/z-wave-plus-wall-mount-on-off-switch#sthash.w8JPwu7v.dpuf
ZWP Model # WS100 Non-dimming Wall Switch
Overview
Works with incandescent lamps, florescent, and LED lighting
Fits standard wall plate, user replaceable keypad to match colors
Clean design with LED status indicator
GROUP/SCENE/ALL enabled
Over-The-Air firmware upgrade supported with Z-Wave™ static controller, PC and software
Supports Network Wide Inclusion
Powered by Sigma Design 500 Series module inside
Internal resettable fuse to protect from surge current
Functions as a Z-Wave™ signal repeater
See our PA-100 plug-in non-dimming switch which plugs into a standard AC outlet, and allows remote control of On, Off lights and AC operated appliances. It also repeats Z-Wave commands to other devices.
Specifications
Parameter                                Min    Nom   Max  Unit
Operating Temperature             0                  40     °C
Storage Temperature               -20                60     °C
Storage Humidity                                           80      %
Electrical Ratings:
Input Voltage                           108     120     132 Volts
Input Frequency                       57       60       62    Hz
Maximum Output Load : 900W incandescent, 200W CFL/LED, ½ horsepower motor, and 15A, 1800W resistive load
Fuse                                                              5  Amps
Dimmer conduction angle
at max fully on position           80       90                %
Z-Wave™ Frequency for USA       908.42 MHz at 9.6 kps      -0.025 908.42 +0.025 Mhz
Wireless Range (controller & repeater)
at open air, 1 meters high,               100              ft
Modulation              FSK
Tx Power from IC setting                  -1             dbm
Rx Sensitivity                                  -102           dbm
At 40kps                                            -98           dbm
Standby current                                  25           mA
Mechanical Parameters  
Dimensions Body: 2.8"x1.71"x1.41" Yoke: 4.13"x2.13"x.076" Inches
Wire Terminals:  Line, Load, Traveler,Neutral
Minimum Hole for Wire:    Accept #10 AWG
Wire Type: Copper Only
Clamp Parts:  Copper or plated aluminum
Primary Color: Munsell N9 Apple White
Body Material:  GE Pplastic,lexan Resin 940
Agency Listing and Certifications:
FCC and Industry Canada:  X
UL Listed, US Canada:  X
Z-Wave™ Plus Certified: X
Special Feature: Traveler connection is protected against improper hookup to line, load, ground, neutral.
Supplied Parts:
Mounting Screws     Qty=2
Instruction manual    Qty=1