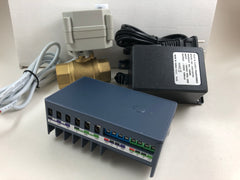 Z-Wave Water Shutoff Valve Package
Get our motorized water shutoff valve, Zooz ZEN17 Universal Z-Wave™ Relay module, and heavy duty 12VDC valve power adapter for less than most others charge for the valve alone!

Overview
Use with our Z-Wave™ Water Leak Sensor or Z-Wave Temperature Sensor to automatically turn off the water to prevent further damage.  This product can also be used with a Z-Wave  controller to provide water On/Off events based on time of day.

Beware of inferior, cut-rate valves without feedback.  Unlike other water shutoff valves, ours provide feedback in the fully open or fully closed positions to let you know that the valve is actually closed.  This feature also enables our valves to be operated sequentially.  For example: Turn off the water supply then drain the plumbing.
Motorized 3-way valves are also available by special order.  Contact us for pricing and availability.
All homes should be equipped with this water shutoff valve to prevent tens of thousands of dollars in potential damage due to leaking or frozen pipes.  This is a must have for vacation homes or any structure that is unoccupied for extended periods of time.  Whole house automatic water shutoff valves may also allow discounted rates on your homeowners insurance.  
The motorized actuators used with these valves automatically turn themselves off when the open or closed position is reached and will remain in that position in the event of a power failure. Power is consumed only when the valve is in motion.  Actuators are extremely reliable, rated for 70,000 cycles, can be replaced without even turning off the water.
The use of an automated water shutoff valve with leak sensors may qualify you to receive a discount on your home owner's insurance.
Note: Brass valves have not been certified under NSF Standard 61, Section 9 for plumbing used for potable water.  We recommend using stainless steel valves for potable water installations.
Due to increased component cost, we are no longer to able to offer a discount on our valve packages.
We have bundled our top quality motorized water shutoff valve with the ZEN17 Universal Relay Module from Zooz and included a 12 volt power adapter to provide everything required to turn your water supply on and off using Z-Wave™ technology.  Click here for valve details.  This full port ball valve can be compared to other valves which regularly sells for over $500.
Unlike other shutoff valves offered elsewhere for this purpose, ours provides feedback when the valve reaches the fully open or fully closed position, so there is no guessing whether the valve actually closed.  This feedback, when used with a Z-Wave™ home security panel, automation controller, or other Z-Wave™ device will provide a visual indication or alert when the valve is in the fully closed position.
Available in 1/2", 3/4", 1", 1 1/4", and 1 1/2" and 2" sizes (select from pull-down menu above).  Contact us for pricing and availability for larger sizes.  1/2", 3/4" and 1" valves are available in brass or stainless steel.
Please Note:  1 1/4", 1 1/2 and 2"sizes are special order, are only available in stainless steel, do not include manual override feature and require reversing relay to work with contact closure interface. (Reversing relay included with 1 1/4, 1 1/2 and 2" valve packages.) Contact us for additional information.
 This package deal includes the following items (click on item for details):
Professional plumbing installation recommended
Product size: 1/2", 3/4", 1", 1 1/4", 1 1/2, & 2" NPT (select from pull down menu above) 1 1/4", 1 1/2, & 2" sizes are special order.  Also available in 3-way by special order.