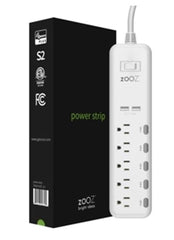 ZOOZ ZEN20 Z-WAVE PLUS S2 POWER STRIP VER. 3.0
The Zooz Z-Wave Plus Power Strip is the smartest way to power up your everyday devices, like your laptop, lighting, entertainment, and audio equipment. Remotely check if a device is powered and switch it on or off with your mobile device. Automatically turn on all or one of the the power strip outlets at a specific time every day based on your schedule and needs.
Create events that allow it to communicate with other Z-Wave devices — open the front door, turn off the power strip. Use the built-in timer to automatically turn designated outlets off after a fixed amount of time for added parental control. Monitor power use and optimize energy draw in your home or office.
Description
5 Z-Wave Plus power outlets

 

for wireless control of small appliances and electronics (total under 15 A resistive load)

2 USB ports

 

for phone / tablet chargers

 

report on / off status

 

to the hub (NO Z-Wave control)

NEW IN VERSION 3:

 

enhanced hardware protection against high inrush current from low quality power adapters
Control each outlet individually or all at once via Z-Wave (individual local control from each button)
Power monitoring in every outlet*
Wall mounting and flat angled plug for cleaner installation

500 series chip for faster, more reliable connectivity 

NEW S2

 

security protocol (S2 unauthenticated)
Built-in signal

 

repeater

 

to strengthen Z-Wave network
Remembers and

 

restores on/off status

 

after power outage
Blue

 

LED indicators signal status and communication in progress
1-year warranty +

 

lifetime tech support
NOTE: Z-Wave gateway controller required - sold separately.
*You need a controller which supports energy reports to take full advantage of the product.
Specifications
Z-Wave Signal Frequency:

 908.42 MHz

Power:

 110V

Maximum Load:

 15Amps TOTAL between 5 outlets 

USB Charging Port Power:

 5V up to 2.1 A

Cord:

 2.5'

Range:

 Up to 100 feet (30m) line of sight

Installation and Use:

 Indoor Only

Operating Temperature: 

32-104° F (0-40° C)

Dimensions:

 11" x 2.5" x 1"

Weight:

 13oz