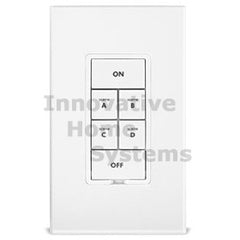 KeypadLinc - INSTEON 6-Button Scene Control Keypad with On/Off Switch (Dual-Band) 2487S
This product is currently sold out.
Heavy-Duty 20-Amp Switch and Keypad Controller All-in-One!
Overview
Three products in one: In-wall controller, 20-amp On/Off switch and Access Point
Monitor and control five different devices or sets of devices
Create whole-house lighting scenes in minutes
Visually displays the status of any linked device with the built-in LEDs
Featuring dual-band INSTEON technology for the fastest and most reliable performance
Essential Info
This keypad is an elegant in-wall scene controller plus heavy-duty 20-amp switch all in one. Simply install the keypad in place of a standard wall switch and the on and off buttons control whatever the previous switch controlled (light/appliance), while the four scene buttons can be programmed to control any number of INSTEON devices such as dimmers, receptacles, A/V gear and more. Furthermore, KeypadLinc can itself to be a member of countless scenes. This gives you remote control of both the connected light or appliance as well as any of the the scene button LEDs. This newest member of the KeypadLinc family supports voltages from 120 to 277V, making it the perfect energy saving, wireless controller for residential and commercial building automation systems. Need to control more lights from this location? You can easily change this 6-button KeypadLinc to an 8-button keypad using the 8 Button Change Kit for KeypadLinc.
More Info
Easy To Install INSTEON 6 Button Keypad Controller with On/Off Switch is easy to install and set up and yet so affordable, you'll be able to replace many of your switches with KeypadLinc. Just remove the old switch, reattach the line, load, and ground wires with the addition of the neutral wire using the included wire nuts, and you're done.
Monitor Other Devices The buttons on INSTEON 6 Button Keypad Controller with On/Off Switch illuminate when ON signals are sent and when signals are detected from other INSTEON devices linked to KeypadLinc. This allows the KeypadLinc to monitor lights in other rooms, which is incredibly useful if you want to control lights that aren't easily seen from the location, like those in bedrooms, bathrooms, basements, garages, attics, etc.
Flexible Setup The KeypadLinc gives you tremendous flexibility with controlling your lighting system. Other wall-mounted keypads only provide on/off control of all devices, however; KeypadLinc button can perform up to four different functions. Press a button once for ON; press again for OFF. Press and hold to brighten, press and hold again to dim. If you prefer, turn off the toggle feature to send the same command every time. This is a helpful feature when programming an "all on" command button to press when you get home or "all off" command button to press when you leave for the day.
Create Multi-Way Circuits KeypadLinc allows you to customize your lighting setup no matter how your house is wired. It's simple to create a 3, 4, or 5-way circuit. First replace all of the existing switches you want to include in the circuit with either a KeypadLinc, INSTEON SwitchLinc Dimmer, or a INSTEON SwitchLinc Relay (Non-Dimmable). The main controller must be connected to the standard wires, load, line, neutral, and ground. The secondary switches only need to be connected to line, neutral, and ground. No traveler wires are needed, so it is easy to place one of the switches wherever you need it. Cross-linking all of the companion switches to the master switch is the last step in the process.
Dual-Band The keypad is dual band so it has the ability to communicate using both the electrical wires in the home (powerline) as well as using radio frequency (RF). This increases reliability not only for the keypad but for all devices on an INSTEON home control network (similar to the function of an Access Point).
Depth Comparison The new KeypadLinc dual-band requires about a quarter-inch more depth than previous versions of KeypadLinc. Also, with the extra depth, the dual-band KeypadLinc will not fit inside the tabletop enclosure.
Non-Volatile Memory All KeypadLinc settings are stored in non-volatile memory and are not lost during power failures. Additionally, in the event of a power loss, the KeypadLinc will return to its last on/off state when power is restored.