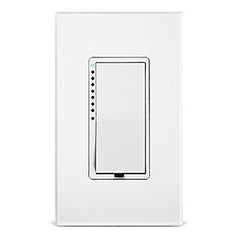 SwitchLinc Dimmer - INSTEON (Dual-Band) Remote Control Dimmer (2477D)
The most advanced remote control dimmer available. Simply replace your existing wall switch with this INSTEON controlled dimmer to automate incandescent or LED lighting.
Overview
Control this dimmer remotely from anywhere
Programmable on-level and fade on/off speed
Featuring dual-band INSTEON technology for the fastest and most reliable performance
Automatically detects 50 or 60 Hertz electricity and supports 100-277VAC
Doubles as an Access Point
Essential Info
This high-tech yet easy to use dimmer takes your home into the future by giving you the ability to set the speed at which the light fades On and Off, a preset on-level for always remembering your favorite brightness level and best of all, being able to remotely control the dimmer from a handheld remote, wall keypad, computer or mobile phone (controllers are sold separately). With high-end quality, at-a-glance LED status and remote controllability, you'll see how easy it is to create your own home of the future.

The SwitchLinc installs like a traditional wall switch with the exception of requiring connection to neutral. Most homes have a neutral wire available (see How to check if I have neutral wires?). If you do not have a neutral wire available, use the SwitchLinc 2-Wire Dimmer. Once installed setup is quick and easy using simple programming.

SwitchLinc now supports 100-277VAC and 50/60Hz electrical systems, enabling INSTEON users outside of the US the opportunity to utilize our most advanced in-wall dimmer switch.

Scene Lighting Scenes allow you to control multiple lights, rooms or even the whole home with a single command. Because the SwitchLinc Dimmer can be a member of more than 400 scenes (i.e. "Movie Time," "Party," "Romance," etc.), you'll be able to launch various lighting scenarios with a single button press. These elegant features are usually found only in systems costing tens of thousands of dollars and requiring extensive rewiring of your home. All member lights can ramp to your independently desired brightness levels at your chosen ramp rate(s). So one set of lights can dim slowly, while another set turns off instantly, all controlled with one command from one button. If you want to control multiple scenes from one controller, we recommend the INSTEON KeypadLinc Dimmer.
General
Brand: INSTEON
Manufacturer Product No.:2477D, INSTEON SwitchLinc Dimmer (Dual-Band)
Patent No.:U.S. Patent No. 7,345,998, International patents pending
Warranty:2 years, limited
Operation
On-Levels:32 locally, increments of 1% with software
Ramp Rates: (full-ON to full-OFF):0.125 to 9 seconds if programmed locally, 0.125 seconds to 8 minutes if programmed remotely
LED Indicator:9 White LEDs, Optional Green, Blue, Amber, or Red with #2400L kit
Operation Modes: INSTEON only, X10 only, INSTEON and X10 Combo Mode
Combo Mode Message Order: INSTEON, INSTEON cleanup, X10
Multi-Way Circuit Support :One SwitchLinc Dimmer controls load, Cross-Link any number of SwitchLinc Dimmers or other INSTEON Controllers
Setup Memory: Non-volatile EEPROM
INSTEON Features
INSTEON Addresses:1 hard-coded out of 16,777,216 possible
INSTEON Links:417
INSTEON Powerline Frequency:131.65 KHz
INSTEON Minimum Transmit Level:3.2 Vpp into 5 Ohms
INSTEON Minimum Receive Level:10 mV
INSTEON Messages Repeated: Yes
Radio Frequency:915 MHz
Ramp Rates (full-ON to full-OFF):0.125 to 9 seconds if programmed locally, 0.125 seconds to 8 minutes if programmed remotely via software
Mechanical
Paddle Type: True rocker action
Wire Nuts:4 included
Mounting:
Mounts in single or multiple-ganged junction box. Control 200 W less load for each immediately adjacent SwitchLinc Dimmer installed. For example, 600 W load control becomes 400 W with another dimmer to the immediate right or left. Use a triple-gang box with a mechanical switch in the center to avoid de-rating.
Operating Conditions: Indoors, 32 to 104° F, up to 85% relative humidity
Dimensions: 4.1" H x 1.8" W x 1.2" D
Weight: 3.6oz
Electrical
Supply Voltage:100-277 Volts AC +/- 10%, 50/60 Hertz, single phase
Neutral Wire: Required
Power Wire Leads:6", 16 AWG, stranded,600V, 105°C insulation, ends stripped and tinned, LINE (black), LOAD (red), NEUTRAL (white)
Maximum Amps:5 amps
Ground Lead:6", 18 AWG, stranded, bare copper
Load Types:Wired-in incandescent lighting devices
Maximum Load:600 Watts (uses 12-Amp triac dimmer)
Power Consumption:0.59 Watts
Certification:Safety tested for use in USA and Canada (ETL #3017581)
X10 Features (applies to power line only)
X10 Primary Address:1 optional (comes unassigned)
X10 Scene Address:255 possible
X10 Status Response:Supported
X10 Resume Dim:Supported (by setting Local On-Level to zero)
X10 Powerline Frequency:120 KHz
X10 Minimum Transmit Level:3.2 Vpp into 5 Ohms
X10 Minimum Receive Level:20mV into 5 Ohms
X10 Messages Repeated:NoX