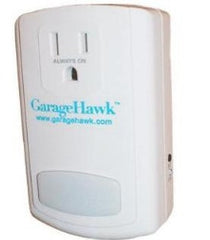 GarageHawk Garage Door Monitor System Remote Module R07
Allows remote monitoring and closing from an additional location within the home when used with an existing GarageHawk Starter Kit.
Additional Remote Modules can be used to monitor from multiple locations in the home

Provides verification feedback when garage door is closed

GarageHawk Remote Module(s) will alert you if any garage door is open

Will not open a closed door

GarageHawk employs patented INSTEON® wireless transmission standards
Essential Info
The GarageHawk R07 Garage Door Monitor System Remote Module is an add-on to the Garage Door Monitor System that allows you to wirelessly monitor and close your garage door from anywhere in your home. The Remote Module is used for two purposes: indicate the current position of the garage door (red is open and green is closed), as well as provide the means to close the garage door by pressing the button. Plug the remote module into any easy and accessible location for easy monitoring, such as bedrooms, hallways, or any high traffic area. There are no batteries required and settings are stored in non-volatile memory so the settings are automatically reset after a power failure. The system requires at least one Remote Module to work properly and a GarageHawk Starter Kit is recommended to begin.