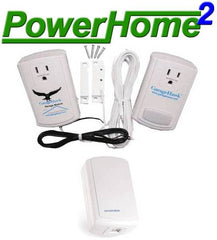 GarageHawk Home & Away Garage Door Monitoring Package w/PowerHome2
Monitor and close your garage door from anywhere in the world using your mobile device.  Use your Window home computer to control lights, appliances, sprinklers, HVAC and more.  Take advantage of our special package pricing on this super deal!  We've bundled the popular GarageHawk garage door monitoring system with PowerHome 2 software and an INSTEON Power Line Modem to give you economical, full function, whole house automation with capabilities second to none.
GarageHawk is also available separately here.
Save $30 over the regular cost if the items are purchased separately. Package includes everything necessary to monitor and close your garage door from anywhere using your smartphone, tablet, computer, or any web-enabled device - no app required. Easy to set up scenes and scheduled events using your existing Windows PC.  Also controls most other INSTEON and X-10 devices. Graphical User Interface (GUI) is completely customizable - create your own backgrounds and buttons. Wired Internet connection required. Package Deal Includes: GarageHawk Garage Module, GarageHawk Remote Module, PowerHome2 Controller Software, 2413U PLM, Cables, & Manuals.