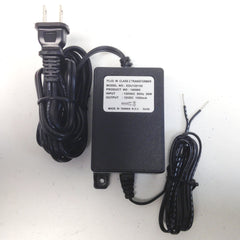 12 Volt DC, 1.5 Amp Power Supply (EDU120150)
Use this power supply to operate our motorized water shutoff valves.  This is the same power supply included in our Water Shutoff Valve Package Deals.
Safe, low voltage power supply specifically suited for use with our motorized water shutoff valves or other 12vdc applications.  Stripped and tinned output wires, 2 conductor power cord.  Convenient mounting ears for easy attachment to walls or other structures.  Contact us for help with connections for your specific application.
Specification                                      
Output Connection                        Stripped & Tinned Wires
Number of Outputs                        1
Product Type                                  AC to DC Power Supply
AC Power Cord                              INCLUDED
Length (inch)                                  3.1
Width (inch)                                    2.1
Height (inch)                                   1.9
Agency Approvals                           UL
Color                                                Black
Type                                                 Unregulated Linear
Style                                                 Wall mount Adapter
Primary Output Voltage (VDC)        12
Output Current (A)                           1.5
Maximum Output Power (W)            18
Input Voltage (VAC)                          120
Input Frequency                               60Hz