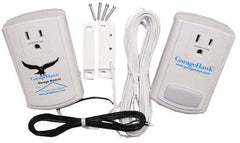 GarageHawk Garage Door Monitor System Starter Kit G07/R07
The GarageHawk system provides a visual garage door status indication via a small, plug-in remote module. Status is wirelessly reported from a companion module that is connected to the existing automatic garage door opener and shares its electrical outlet. The patented microprocessor-controlled technology allows the ability to remotely close a garage door but when properly installed will never open a door that is already closed. The system requires no batteries and does not interfere with regular garage door opener operation, garage door sensors or other garage door safety features. Compatible with many popular Automation Controllers to allow garage door monitoring and closing from any Internet connected mobile device. Use the popular GarageHawk garage door monitoring system with the PowerHome2 to give you garage door monitoring and closing capabilities from anywhere in the would via your smartphone or other web enabled device.
Overview
Notification via small Remote Module
Additional Remote Modules can be used to monitor from multiple locations in the home
Provides verification feedback when garage door is closed
GarageHawk Remote Module(s) will alert you if any garage door is open
Provides email or text notification and remote closing when used with a compatible Automation Controller
Easily installed using only a screwdriver -- no rewiring required
No batteries to replace
GarageHawk employs patented INSTEON® wireless transmission standards
Essential Info
The GarageHawk G07/R07 Garage Door Monitor System Starter Kit allows you to wirelessly monitor and close your garage door from anywhere in your home. GarageHawk installs in minutes, using only a screw driver, just plug GarageHawk into any outlet. Red indicates an open garage door, simply press the button to remotely close your garage doors. When the light turns green, the garage doors are closed. There are no batteries required and settings are stored in non-volatile memory so the settings are automatically reset after a power failure. Additional Garage Modules are available so the system can control every garage door on the property. In addition, Remote Modules are available to monitor from as many rooms in the house as needed.
More Info GarageHawk units employ INSTEON (PLC) standards to communicate over your existing power lines. GarageHawk is easily integrated with other INSTEON controllers, receivers, remote controls, and security systems to add additional functionality (e.g. automatically close garage doors at sundown or use Door Open indication to trigger other events or notifications). Note: For your security, GarageHawk does not have the capability to remotely open a closed garage door. This eliminates the possibility of the device being used to gain illegal entry to your property.
X