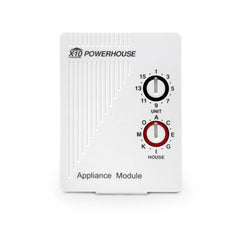 AM466 X10 Appliance Module (Used)
We are currently closing out of all remaining X10 products.  These products may be New Old Stock, Open Box, Used or Returned units and may or may not include original retail box or installation instructions.  All units have been tested and function perfectly. 
The AM466 is our main 3 Pin Plug In Module. If you need a 2 Pin Module, checkout the AM486 2 Pin version. Simply plug the AM466 into an outlet then plug the unit you wish to control into the receptacle on the bottom side of the AM466. Set the code to match your remote and you are UP and RUNNING!
This plug in module is rated at 15amps, 1/3hp, 500 Watts. It can be used to control things like Fluorescent lighting, Air Conditioners, Hot Tubs, Computers, Radios, Fountains, small pumps and motors, etc. Automate these devices within minutes with the AM466 3-Prong Plug In Module.
What are the advantages of using the AM466 Plug In Appliance Module?
The AM466 comes with the following benefits:
Home Automation Capabilities and timed Events
Allow Remote function of your lights or appliances with any X10 Controller
Easy Programming, anyone can do it!