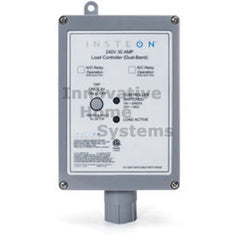 220V / 240V 30 AMP INSTEON Load Controller (Dual-Band) 2477SA
This product has been discontinued by the manufacturer, but we have an alternative!
Overview
Remote On/Off control of 220V / 240V, 60Hz devices via INSTEON
Economically priced solution for controlling heavy-duty appliances up to 30 AMPs
Dual-band device acts as Access Point for INSTEON RF only products
Easily installed between breaker panel and appliance - no neutral required
Acts as an active phase repeater for INSTEON signals
Essential Info
Available in Normally Open Relay or Normally Closed Relay
The INSTEON 220V / 240V 30 AMP Load Controller (Dual-Band) lets you efficiently control the use of heavy duty appliances and take a step towards saving energy and cutting down on utility costs. With the ability to control 240V appliances, you can keep an eye on some of the larger energy consumers in your home. If you're headed away on a weeks-long vacation, why bother running the water heater? Save money and energy by programing an INSTEON controller to automatically disable the water heater whenever a vacation scene is run. Tired of the ancient analogue timer that runs your pool system? Replace it with a 240V controller and have the INSTEON Hub or other controller keep things on a schedule. Do some research with your utility company and you can even program your pool system to clean when the electric rates are at their lowest. At the end of a stressful day at work, how nice would it be if your spa or sauna could be prepped and ready for you the moment you walk through the door? High current applications like pool pumps and electric heaters can be controlled, letting you treat your luxury home amenities just like your INSTEON-controlled lights. Controlling loads up to 30 Amps, it allows you to use other INSTEON devices to remotely control appliances that run on higher voltage and in a normally open state. A local 'Set' button lets you toggle the attached load on and off. The relay comes with pre-configured wires and mounting hardware. There is no need to open the box for installation, simply identify the labeled wires and connect one set to your breaker panel and the other set to the high current appliance. This switch also features INSTEON Dual-Band technology, which sends and receives INSTEON powerline and wireless radio frequency (RF) signals. This allows the module to function as a phase bridge for superior signal reliability and as an access point for INSTEON RF and battery powered devices. The INSTEON 220V / 240V 30 AMP Load Controller is available as a Normally Open Relay or Normally Closed Relay.
Required Accessories - Depending on your particular application, you will likely need: 4 to 6 large red wire nuts, 3/4" conduit between the product and a near-by junction box. Suitable junction box for connection to existing wiring mounting screws
More Info
INSTEON is a powerful home-control networking technology. INSTEON messages are transmitted throughout your home both wirelessly and through the home's existing wiring. All INSTEON messages are confirmed and repeated by INSTEON devices in the network, contributing to the outstanding reliability and performance of INSTEON products.
Specifications
General
Brand: INSTEON
Manufacturer Product No.: 2477SA1-Normally Open Relay 2477SA2-Normally Closed Relay
UPC: NO-813922010374, NC-813922010381
Patent No: U.S. Patent No. 7,345,998, International patents pending
Color: Gray
Dimensions: 8.6" H x 4.5" W x 2.5" D (21.8 cm H x 11.4 cm W x 6.4 cm D)
Weight: 1.40 lbs.
Warranty: 2 years
Operation
Local Control: Yes
Load Sense: No
Power Restore: Yes
Application LED(s): Load Active (LED follows relay)
Field Upgradable Support: No
Operating Environment: Indoor
Operating Temperature Range: 32° F to 104° F (0° C to 40° C)
Operating Humidity Range: 0-85% Relative Humidity
INSTEON Features
INSTEON Addresses: 2 hard-coded (1 for Access Point, 1 for Relay)
Maximum # of Controller Groups: 1
Maximum # of Responder Groups: 1
INSTEON Links (max): 417 (total of controller and responder)
INSTEON All-Link Support: Yes
INSTEON Multi-link Support: No
INSTEON Unlink Support: Yes
INSTEON Multi-unlink Support: No
INSTEON PLC (Powerline Carrier): Yes
INSTEON RF: Yes
INSTEON Powerline Minimum Transmit Strength: 3.2 Vpp into 5 Ohms
INSTEON PowerLinc Maximum Sensitivity: 10 mVPP nominal
INSTEON RF Range: 100' minimum, open-air
INSTEON Messages Repeated: Yes
INSTEON Controller: Yes
INSTEON Responder: Yes
Electrical
Input Power Voltage: 220/240 Volts (+/- 10%) - Two 120-Volt split-single phase electrical lines
Input Power Voltage Type: AC
Input Power Voltage Phase Type: Split, single phase - connections only to leg A and leg B (no neutral connection)
Input Power A/C Frequency: 60 Hz
Controllable Device Types: All INSTEON Responders
Certification: Safety tested for use in USA and Canada (ETL #3193579)
FCC ID: SBP2477SA
Industry Canada:5202A-2477SA
X10 Features: N/A