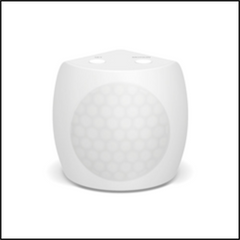 INSTEON Wireless Motion Sensor II 2844-222
Control Any INSTEON-Compatible Device with the INSTEON Motion Sensor
Overview
Turns on Insteon-controlled lights/appliances when motion is detected
Turns off after motion stops
Optional night-only mode prevents motion from turning lights on during the day
Adjustable day/night threshold
30 feet detection range with up to 90° arc
Award-winning Insteon technology provides superior performance and reliability
Optional power via USB cable – sold separately
New Features
Improved wireless performance
Smaller, modular design allows for tabletop, wall or corner mounting
External setup button provides for quick setup and easy testing
Motion override button temporarily pauses the sensor from activating lights
Essential Info
Turn on your INSTEON-controlled lights or appliances when you enter the room and turn them off after you've left. Truly automating your lighting, this motion sensor is perfect for areas of your home such as the laundry room, closets and the garage where lights commonly get left on. Use this motion sensor for indoor or outdoor applications, and link it to a wall switch, plug-in lamps or appliances. You can even have the motion sensor trigger your thermostat to a favorite comfort level when you enter your home or any room in your house. Additional features include an adjustable 'Off' countdown timer delay, night-only mode with adjustable light sensitivity settings, adjustable motion sensitivity, wireless range of up to 150', 40-foot field of vision and a pivoting mounting bracket. INSTEON Wireless Motion sensor is a must-have for any INSTEON home automation network as an addition that will make your life more convenient, fun and energy-efficient. A 9 Volt battery is required and included. 
Required Accessory Since the motion sensor only transmits RF signals, your home must have at least one Access Point or other dual-band product to interpret the command for controlling powerline only devices.
How It Works When the sensor detects motion it sends a wireless RF signal to the nearest Access Point or other dual-band product (sold separately) which in turn relays the signal over your existing power wires to turn on linked devices such as lamps or wall switches. After a selectable time of no motion, the sensor turns those same lights (or appliances) off. The motion sensor also features a secondary dusk/dawn control feature that is accessible with computer controllers such as INSTEON Hub. It allows you to set a device or group of devices to activate when the photocell detects a change in light or dark conditions for more than 3.5 minutes. Great for automatically controlling landscape lighting and more.
Note About PIR Sensors As with all PIR (Passive Infrared) motion sensors, there are certain factors which can cause detection range/reliability to vary. Because PIR sensors rely on changes in heat to detect motion, be aware of the following factors that can effect PIR reliability when choosing a location to mount your INSTEON Motion Sensor:
Rapid environmental changes
Direct sunlight
Direct wind from a heater or A/C
Fireplaces
Also, please note that certain types of treated glass may or may not act as an infrared 'wall' through which a motion sensor can detect. If you want to detect motion through glass, we recommend you test it in your particular application.
More Info
Never Leave Light On Again INSTEON Wireless Motion Sensor is a great energy-saver: Your lights will turn on when you enter and automatically turn off after you leave, so you'll never have to worry about leaving your lights on. Also, INSTEON Wireless Motion Sensor has a built-in photocell, so it can be disabled during the day. If daylight is enough to light your house during the day, Motion Sensor can leave the lights off, even when motion is detected.
Dusk/Dawn Photocell Sensor Save energy by ensuring lights are off at dawn or turn your porch lights on at dusk with INSTEON Motion Sensor's dusk/dawn feature. When used with a supported  INSTEON automation controller, Motion Sensor can also be used as a dusk/dawn sensor. After it has been bright for 3 and a half minutes, Motion Sensor will send an Off command for its 'Group 2', which can be used to turn off lights and appliances or trigger a software event. Conversely, it will send an On command after it has been dark for 3 and a half minutes.
Battery or USB Power  Power your sensor with the included long-life lithium battery or use a micro USB cable* for battery-free operation while simultaneously turning the sensor into an RF repeater.